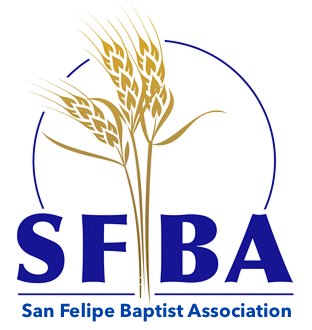 many churches - one mission
God has truly blessed San Felipe Baptist Association throughout its rich history and heritage. SFBA was organized on October 21, 1948 in the Katy Baptist Church. The organizing group was comprised of 39 messengers and pastors from these churches: Katy Baptist Church, Prairie Home Baptist Church of Brookshire, Beasley Baptist Church, Wallis Baptist Church, Orchard Baptist Church, First Baptist Church of Rosenberg, First Baptist Church of SugarLand, Missouri City Baptist Church, First Baptist Church of Sealy, Bellville Baptist Church, Harris Creek Baptist Church of Brookshire, Stafford Mission, and Addicks Mission.

The name of our Association has great spiritual and historical significance. San Felipe was named for the acting Mexican Governor of Texas in 1836. The geographical area was located on the west bank of the Brazos, near the present town of Sealy. San Felipe was the headquarters of the Stephen F. Austin Colony. The first Sunday School in Texas was begun by Thomas J. Pilgram in San Felipe in 1829 along with the Texas Gazette newspaper that same year.

Through the years, SFBA has made a tremendous impact on the lives of people in this region of Texas. SFBA churches and their members have played an important part in the development of the cities, towns, and local neighborhoods in our region. SFBA churches have a strong sense of cooperation and commitment to Christ's work in this area as well as in all parts of the world.

Currently, SFBA is composed of churches, which are located in Beasley, Bellville, Brookshire, Fresno, Fulshear, Houston, Industry, Katy, Missouri City, Monaville, Needville, Orchard, Pattison, Pleak, Richmond, Rosenberg, San Felipe, Sealy, Stafford, Sugar Land, Wallis, and San Jose, Costa Rica. Through the S.T.A.R.S. Network, SFBA has a world-wide connection with Affiliates in various parts of the globe.

Today's churches of SFBA are grateful to God for the wonderful pioneers of the faith who blazed a spiritual trail for us to follow. Those devoted pioneers of the faith built churches and communities. They faithfully tithed and sacrificially gave of their time to carry out the ministries of their churches. Our current identity as a Baptist Association is derived from the example of those who have gone before us. For this we are grateful!